Santa Lucia, the Queen of Light
T
oday is Santa Lucia Day, celebrated throughout Scandinavia as part of the Christmas season.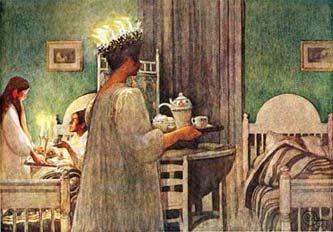 Lucia Morning
Carl Larsson, 1908
(House of Sweden)
The
story
of "Lucia Morning," as told by
cowboyannie
. . .

In Sweden, Denmark, Estonia, Norway, and Finland, Saint Lucy is venerated on December 13 in a ceremony where a girl is elected to portray Lucia. Wearing a white gown with a red sash and a crown of candles on her head, she walks at the head of a procession of women, each holding a candle. The candles symbolize the fire that refused to take St. Lucia's life when she was sentenced to be burned. The women sing a Lucia song while entering the room, to the melody of the traditional Neapolitan song Santa Lucia; the Italian lyrics describe the view from Santa Lucia in Naples, the various Scandinavian lyrics are fashioned for the occasion, describing the light with which Lucia overcomes the darkness. Each Scandinavian country has lyrics in their native tongues. After finishing this song, the procession sings Christmas carols or more songs about Lucia. A similar version occurs in Scandinavian communities and churches in the United States. In the Lucia procession in the home depicted by Carl Larsson in 1908, the oldest daughter brings coffee and St. Lucia buns to her parents while wearing a candle-wreath and singing a Lucia song. Other daughters may help, dressed in the same kind of white robe and carrying a candle in one hand, but only the oldest daughter wears the candle-wreath.

To hear a performance of "Sankta Lucia" in Swedish, see this
post
from a year ago.
###
Labels: Arts, Special occasion