Rennie Harris Puremovement and Rachel Maddow at Jacob's Pillow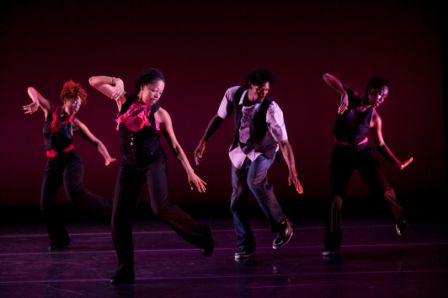 Melanie Cotton, Crystal Frazier, Kyle Clark, and Dinita Askew of Rennie Harris Puremovement in "Something To Do With Love – Volume One," choreography by Rennie Harris
(Christopher Duggan)
T
his afternoon, I went to
Jacob's Pillow
to see
Rennie Harris Puremovement
perform, and then, after the performance, to hear what
Rachel Maddow
has to say about the role of the arts in the US.
There were four pieces on Puremovement's program, one new (or, according to what I read, in progress) and three old. All drew on hip-hop movement as their basic medium of expression.
The new piece was the five-part "Something to Do with Love – Volume One," with a selection of smooth, generally down-tempo songs as its score — "
Rain
," by
Henderson
; Marvin Gaye's "I Want You," mixed by Kenny Dope; and songs by
Vikter Duplaix
,
Ayo
, and Nina Simone. The printed program noted that that the third section of the dance, "A Man's World," was co-choreographed with Emilio Austin jr, aka
Buddah Stretch
.
The older repertory pieces were "P-Funk," choreographed in 1992, the year Harris founded Puremovement, with music by
Parliament Funkadelics
(P-Funk) and
Groove Collective
; "March of the Antmen," also dating from 1992, set to spoken words and a score of the same name by Dru Minyard, rewritten by Darrin Ross and Grisha Coleman; and "Students of the Asphalt Jungle" (1995), with an electronic score by
Darrin Ross
.
After the first three pieces, which were all relatively subtle in their incorporation of break dancing into the movement, "Students of the Asphalt Jungle" pulled out the stops, which left the audience exhilarated as the lights came up.
***
Maddow was speaking on the Pillow's outdoor stage. Her main theme was that the arts are of vital importance as a dimension of a country's claim to excellence. You can pick up the gist of Maddow's views by reading a brief
statement
she contributed to the
LA Times
back in March.
After offering opening remarks, Maddow answered questions from Suzanne Carbonneau, the Pillow's scholar in residence, and from the audience, which was a couple hundred people, at least.
Rachel Maddow talking with Suzanne Carbonneau outdoors at Jacob's Pillow, August 8, 2009.
(Christopher Duggan)
###
Labels: Arts